FayFoto has been involved with Boston's business, political, advertising and public relations communities for…
well…
we're not entirely sure of the year of origin but we're going with 80+ years.
We covered many assignments and produced many many images over the course of those decades (estimated at over 7.5 million negatives!). Our collection of negatives from the late 60's until about the early 2000's (when we transitioned to digital) is essentially unbroken. We also had several metal file cabinets filled with much older negatives that aren't catalogued in any coherent manner.
We're not hoarders exactly, but neither are we librarians or curators. Our collection hadn't been maintained for posterity – photographers are pragmatic and we kept them mainly because someday maybe someone would buy a reprint from an image captured back when.
It is a unique time capsule…
Because we aren't trained to be information specialists and because we don't have resources to become that, this collection was effectively useless. Our logs maintained a good record of when an assignment took place and who our client was, but very little else in the way of metadata about the images. In other words, locating and retrieving a negative based on its content rather than an internal reference number stamped on the back of a print was next to impossible. Our logs from that era were hand written, so they couldn't be quickly or easily searched. The cardboard boxes we kept them in weren't in any way archival, and they consumed significant space.
What to do?
This is where Northeastern University comes in. Giordana Mecagni, a conservator in the Special Collections division of Northeastern University's Snell Library reached out to us thanks to a timely referral from a contact at the Boston Public Library who was aware of our situation. As soon as we learned of the breadth and scope of the Library's collection (which includes the Boston Globe's archive!) we knew our collection would be in the best of all possible hands.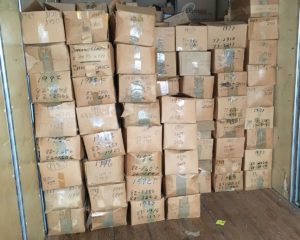 Archivist Daniel Lavoie made several exploratory site visits to our office and on June 5, 2018 the collection rolled off in a moving van to a new home and a productive future.
Here's a link to the story from the Library's perspective entitled "FayFoto archive acquired by Northeastern University Libraries' Archives and Special Collections".
FayFoto Boston is grateful almost beyond words for the Library's willingness to undertake the daunting process of sifting, sorting, organizing, and ultimately making these images available to historians and researchers. We anticipate that one day someone out there will discover just exactly the image he or she is looking for to tell a story about some aspect of Boston's history during this era.
A new beginning, not an end
This isn't the end of the story for FayFoto Boston! We continue to produce new work for businesses and organizations in the Boston area – digitally. It does, however, feel like the beginning of a new story for our older images.