A group photo is like a piece of performance art
I personally find group photos at once terrifying and exhilarating.
If you have never observed a professional photographer organize and capture a group photo, let me outline the stages so that remark makes sense.
The Stages of a Group Photo
Your photographer arrives early to get ready. The set is empty.
People gradually assemble and make small talk. There is amiable chaos.
Your photographer encourages people to pay attention, and starts to arrange people by height so faces aren't obscured. (This stage is often humorously described as "herding cats.")
Chaos gradually diminishes and the group quiets down.
Your photographer fine tunes the placement of subjects.
For 5 or maybe 7 minutes there is an splendid sense of order.
After the last exposure, people mill about, resume conversations, and gradually drift away. Chaos resumes.
The set is empty. Your photographer packs up and departs.
It's predictable, and yet it's magic every time I witness it.
Why would you want a group photo?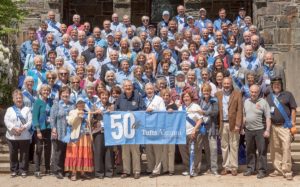 FayFoto is called to do groups for, among other things, College and University reunions, graduating classes, professional organizations, business units, award recipients, and workshop attendees.
What can you do to ensure that a group photo goes smoothly?
Advance Planning makes all the difference. Following are some key areas to consider when planning and preparing for a group photograph.